California's best resource for all your home improvement and handyman needs. Whether you need a professional roofer, plumber, painter, handyman, electrician, carpenter or your looking to have flooring, heating & cooling, kitchen or bathroom remodeling you have come to the right place. All estimates are free with no obligation to you.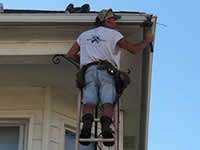 California's Handyman are experts in all your homes remodeling and renovation needs whether its hanging blinds or repairing your damaged roof. California's Handyman can fix it.

Contact us for a Free Quote today!!!

Even if you're pretty handy yourself, the chance is high that you simply don't have the time to figure out how to fix the dryer, install a garage door or spend the day painting your bathroom. The inexpensive rates charged by even the most qualified handyman pay for themselves with more free time to spend with your loved ones, or eliminating lost time from work when things really go wrong around the house.

Give us a call today (661) 268-4083 or fill out our free estimate form and let us show you what we can do for you.

Chances are you have seen one of our painting or handyman crews in your southern California neighborhood painting a house or repairing a porch. Painting is one of our many specialties, so give us a call and we will be be happy to give you a free estimate to paint your home.
Handyman Service Area's
Do you need to hire a California Handyman? Fill out our Free Estimate Form or


Call

(661) 268-4083 to speak to a professional today.